March 10

The big news today is the future "human guardians" of the babies have gotten back to me, and six of the little ones have homes waiting for them (and two more with me) when they are ready to leave in a few weeks. Eden, Echo, and Euclid will be going to Virginia; Erika is being adopted locally, and Escher and Edison (maybe Exor instead; still a little debate) will be going to DC. The other two boys, Exor and Einstein, and Elixir are still waiting and that's fine. (The longer I have them "available" the more attached I get. :-) I always have a couple that take a bit longer to be "discovered.")
I've finally decided on the girl to keep. Eve. Perhaps others knew it before I did. Maybe I was in denial. Anyway, seeing her attachment to the wheel (just like Dash) and how she pushes her brothers aside to get dibs on treats really endeared her to me. I think I'll always think of her as "the pink one" though. :-)
Below is Edison I believe (napping soundly, preparing to become his dad someday), Echo (that's not her tail), another one of Echo (odd how their markings shift when they move), Egon chewing on the attachment clip, Escher climbing, Egon greeting me, and Escher sleeping with Eden and Eve.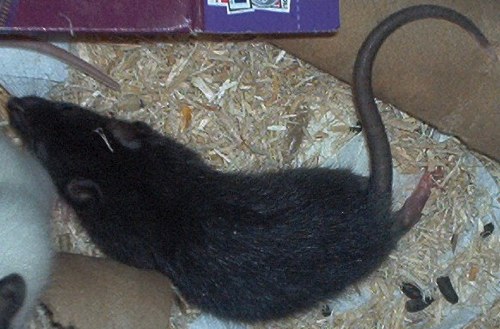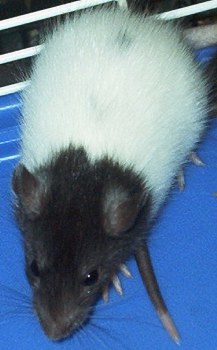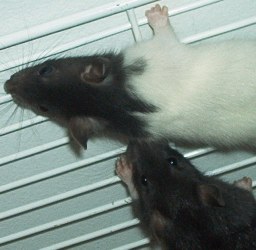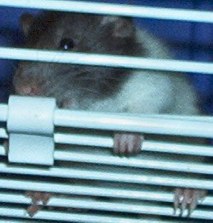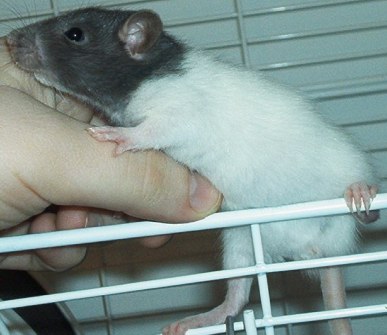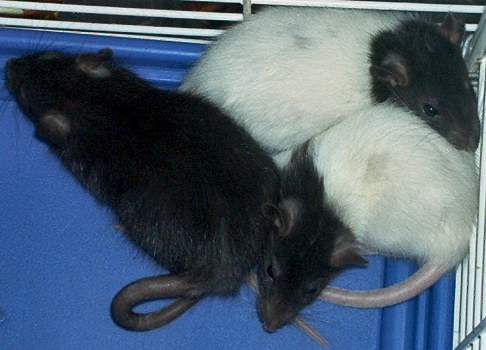 I fixed the gaps in the cage doors with C-clips, so the only access is the hinged top of the cage. This leads to a very interesting experience... Seeing two dozen beady black eyes in black rat heads staring up as they scramble to the top of the cage! I'll have to video tape it to freak out all those rat-fearing folks I know. ;-)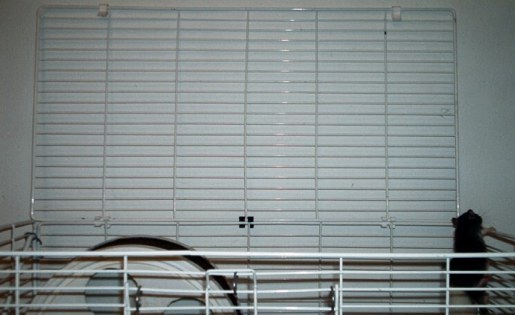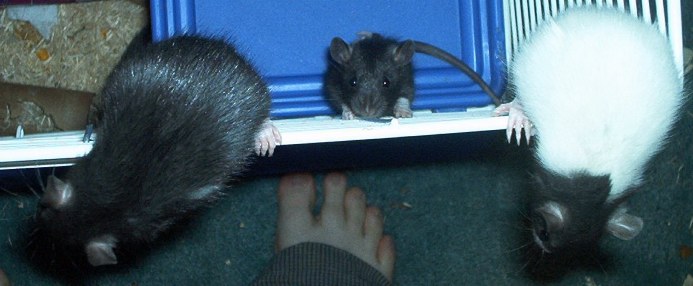 And a few other pics I can't think of anything to say about...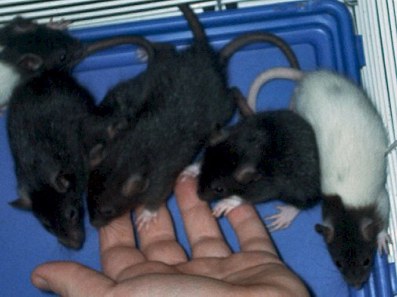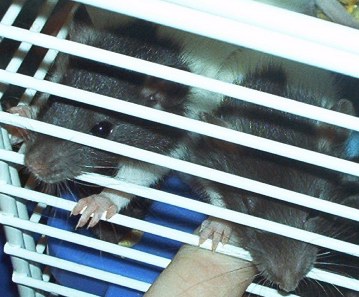 Dash gets to sleep more. She sleeps all now, and she needs and deserves it. Her babies spend time sleeping with her and cleaning her. It's all very touching... However, Dash still manages to be mischievous. When she is outside her cage, she can go anywhere and get into anything when I'm not looking...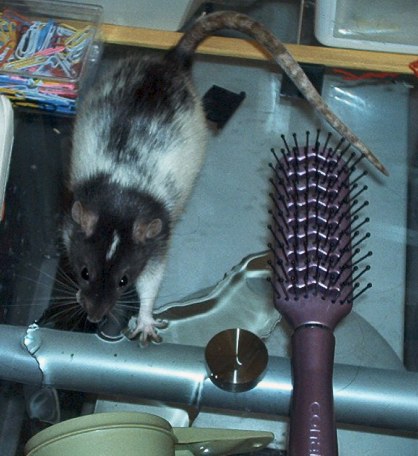 Mmmm... Apple juice...